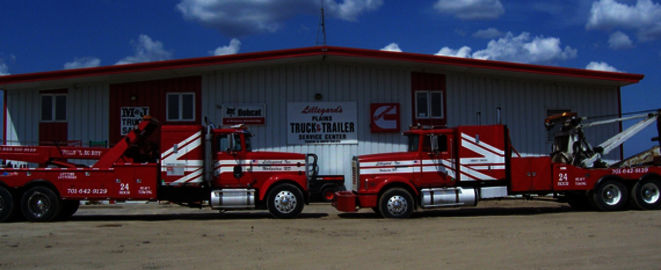 LILLEGARD, INC. ESTABLISHED IN 1913, HAS BEEN IN THE BUSINESS SERVING THE TRI-STATE AREA WITH FACTORY TRAINED SERVICE TECHNICIANS AND A WELL-STOCKED PARTS DEPARTMENT SERVICING ALL MAKES AND MODELS OF TRUCKS & TRAILERS. LILLEGARD, INC. IS A FULL SERVICE HEAVY-DUTY TRUCK SERVICE CENTER OPERATING AS A PARTS, SERVICE AND WARRANTY CENTER FOR INTERNATIONAL TRUCKS. WE ALSO SERVICE CUMMINS, CAT AND DETROIT DIESELS.
A 24/7 WRECKER AND TOWING SERVICE IS OFFERED BY LILLEGARD'S WITH 2 HEAVY-DUTY WRECKERS AVAILABLE TO ADDRESS ANY PROBLEM A DISTRESSED HEAVY-DUTY TRUCK MAY ENCOUNTER. LILLEGARD'S OFFERS THE BEST WRECKER TOWING AND RECOVERY SERVICE AVAILABLE.
IN 1968 LILLEGARD'S BECAME A BOBCAT DEALER, SELLING, SERVICING AND RENTING THE BOBCAT PRODUCTS AND ATTACHMENTS. WE ALSO RENT BELLY DUMP SEMI-TRAILERS.
LILLEGARD, INC. REPRESENTS THE MANUFACTURERS OF NAVISTAR TRUCKS, PARTS AND SERVICE. BOBCAT- WITH SALES, PARTS, SERVICE AND RENTAL OF SKID-STEER LOADERS, MINI-EXCAVATORS, UTILITY VEHICLES, COMPACT TRACTORS AND ALL THE BOBCAT ATTACHMENTS.
THE SERVICE AND PARTS DEPARTMENT AT LILLEGARD'S CAN HANDLE ANY PROBLEM ON THE ROAD OR OFF THE ROAD INCLUDING: SKID-STEERS, CONSTUCTION EQUIPMENT, DIESEL OVERHAUL, BRAKE JOBS, WHEEL ALIGNMENT, MOUNT BOXES AND HOISTS, HYDRAULIC WORK, PTO'S, DRIVE-LINE WORK, INCLUDING CLUTCH, TRANSMISSION, DRIVE SHAFT BUILDING, REAR END AND SUSPENSION OVERHAUL, SEMI-TRAILERS OF ALL KINDS, FERTILIZER EQUIPMENT, DAY CAB CONVERSIONS, FRAME MODIFICATIONS, TRI-DRIVE CONVERSIONS AND LIFT AXLE CONVERSIONS. ROAD AND ON SITE SERVICE AVAILABLE 24/7.
IN 2013, LILLEGARD'S BECAME THE AREA DEALER FOR MAHINDRA TRACTORS WITH TRAINED TECHNICIANS AND A FULL LINE OF PARTS. MAHINDRA TRACTORS RANGE FROM 22HP TO 100HPAND CAN COME WITH HYDROSTATIC TRANSMISSIONS OR SHUTTLE STYLE GEAR DRIVES WITH AIR CONDITIONED CABS OR CONVENTIONAL WITHOUT CABS. WE ALSO CARRY A FULL LINE OF IMPLEMENTS AND ATTACHMENTS FOR THE TRACTOR FROM SNOWBLOWERS TO MOWERS AND MORE! MAHINDRA IS THE WORLDS LARGEST TRACTOR MANUFACTURER AND IS BACKED BY THE INDUSTRIES BEST WARRRANTY WITH 5 YEAR ENGINE AND POWER TRAIN COVERAGE.
STOP BY OR CALL US AT 888-310-9129.
Read More
Equipment Brands
| Manufacturer | Sell Equipment | Sell Parts | Service Center | Authorized Facility |
| --- | --- | --- | --- | --- |
Company's Featured Listings
2021 Bobcat S76
$56,900.00 USD
Bobcat PF48
Contact for price
2021 Bobcat S76
$55,500.00 USD